From the Desk of DJ Lil' Noleum:
Ladies! It's been too long. Three years, in fact, since I last guest DJ'd for you with the help of the interdimensional being known as DJ Ssssnake. Back then, I was on the cusp of my entire life changing—literally, I was graduating college the same day you were dancing. Now I am doing what I think is a decent job of pretending to be a real working adult with grown-up responsibilities. But transitioning out of the bubble of college was tough sometimes, and I remember sending DJ Sssnake sad emails deep into the summer about how I felt like all my ideas at work sucked and how I basically didn't have any friends and how the best part about living in a strange new city was the discovery that some restaurants put alcohol in milkshakes. Which inspired this great Facebook post from DJ Sssnake: "Sometimes you try to give a former student a pep talk about adjusting to the work world and what they remember best is the line 'Don't give up on those boozy milkshakes.'" (I still think it was pretty solid advice.)
Whenever I get down, I make playlists. I find it to be a very calming activity, to the point where I am proud to admit that some chunks of this playlist have been in the works for over a year(!), because I am always thinking about what would make an excellent DDPP Playlist, even when I don't have one scheduled on the horizon. I used to make a playlist for every season—dating back to fall 2009—to keep track of what I was listening to, sure, but also to help preserve memories. Music has this great, powerful ability to take you back, which sometimes gives the silliest songs the weirdest, most unexpected emotional weight. If you put on Nicki Minaj's "Starships" there's like a 50 percent chance I will consider getting weepy because it vividly reminds me of such a specific, happy time in my life. Sometimes I even seek out songs from the boozy-milkshake era of my life because it feels good to wallow in nostalgia on occasion.
Lately, though, I've been using music to forget—not the past, but these chaotic, troubled, post-election times we live in. As someone who writes about pop music for a living now (Editor's note: did we already mention that our DJ is a staff writer at Entertainment Weekly? And that he WROTE THE COVER STORY WHEN PRINCE DIED?! WE DID NOW.), I am always trying to convince people that sometimes the stupidest or most light-hearted songs can be smarter or carry more meaning than serious, artsy fartsy songs. And while I threw myself into this playlist to distract myself and keep myself from going on Twitter or Facebook and reading about all the terrible things happening in this country right now, I couldn't shake the idea that maybe these songs are coming back into my life at the perfect time.
Not that I think any of these songs are dumb by any means: Seinabo Sey's "Words" is a song about how you need both dark times and light times—you need one to help you get through or fully enjoy the other. AlunaGeorge's "Mean What I Mean" is a song about standing up for yourself and against the assumption that women's voices don't matter. Tove Styrke's "Even If I'm Loud It Doesn't Mean I'm Talking To You" is about letting yourself be heard even when other people think you should be quiet and invisible. Cheryl Cole's "I Don't Care" is technically about a breakup, but I think that shouting along to those words grants yourself permission to let go of whatever is troubling you, even if it's just for a few minutes. And that new song by Icona Pop—who, BTW, know about DDPP because I met them and told them about it, and they thought it was wonderful—is about how even when everything is falling apart, at least we have each other to get through it. (Actually, now that I think about it, KT Tunstall's "Hard Girls" is also about girl power—I mean, there is 
literally a Spice Girl in the music video!
) So I guess what I'm trying to say is, I hope these songs helped you and cheered you up and maybe healed you, if that's what you needed, because I think that's what making this playlist did for me.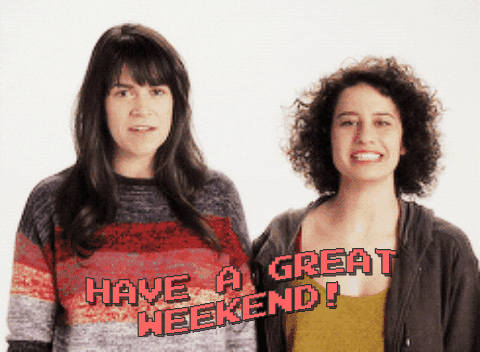 Now I'm going to Yelp for boozy milkshakes because I'm inspired/hungry. Until next time!
PLAYLIST:
"Words" by Seinabo Sey
"Peanut Butter Jelly" by Galantis
"Tell You (Today)" by Robyn & La Bagtelle Magique
"Ain't My Fault" by Zara Larson
"El Tigerago" by Maluca"
"Do You Wanna Come Over" by Britney Spears
"Lifted" by CL
"Intoxicated" by Martin Solveig
"Get Into the Hollywood Groove" by Madonna feat. Missy Elliott
"Operator (DJ Koze Radio Edit)" by Låpsley
"Even If I'm Loud It Doesn't Mean I'm Talking to You" by Tove Styrke
"Hard Girls" by KT Tunstall
"Intergalactic" by the Beastie Boys"
"Mean What I Mean" by AlunaGeorge feat. Dreezy and Leikeli47
"Kiss the Sky" by The Knocks featuring Wyclef Jean
"Not That Kinda Girl" by Fifth Harmony featuring Missy Elliott
"I Don't Care" by Cheryl Cole
"Brightside" by Icona Pop
(The above playlist is missing the Cheryl song because it's not on Spotify unfortunately, but you can watch the music video 
here.
)